Türk Telekom announced its partnerships at GSMA Mobile World Congress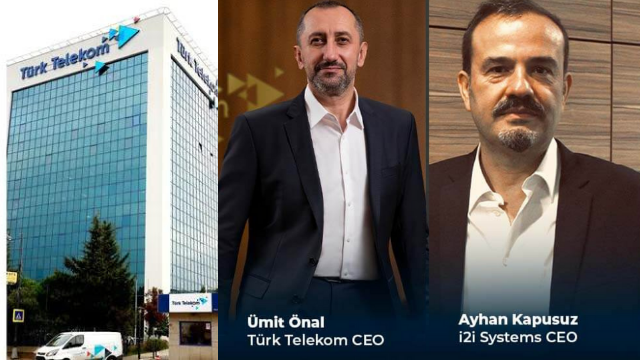 B
efore the start of the GSMA Mobile World Congress, Türk Telekom announced the domestic companies with which it will work together for its strategic work on 5G. Acting upon a sense of national responsibility, Türk Telekom adds value to the sector by collaborating with domestic technologies, and it signed an important cooperation agreement with TARNET, the technology subsidiary of Turkey Agricultural Credit Cooperatives, to develop 5G applications in the field of Smart Agriculture. Türk Telekom announced their joint work with Odine on cloud computing virtualization solutions; and the local software company i2i for the PCRF/PCF product, which is one of the most critical systems of the core network and supports all mobile technologies including 5G.
Türk Telekom, the founder and developer of Turkey's communication infrastructure, is signing collaboration agreements both with domestic companies that will strengthen the local and national ecosystem, and with the world's leading technology companies. Before the GSMA Mobile World Congress, where the biggest technology companies meet in the city of Barcelona in Spain; Türk Telekom announced the domestic companies it is in cooperation with to shape the future with 5G and new generation technologies.
Türk Telekom's CEO Ümit Önal made a statement as follows: "As Türk Telekom, we focus on developing domestic products and projects that will create added value for the country's economy and accelerate national development. With this goal, we aim to demonstrate their potential in the global arena by providing strong collaborations with domestic technology companies. As Turkey's leading information and communication technologies company, our aim is to make our country ready for Industry 4.0 and to make Turkey one of the countries that have a say in 5G. We are very happy to develop partnerships with domestic brands in the transformations we have made in our infrastructure and services, especially while developing projects in the fields of 5G, software-defined networks, internet of things, smart cities, new generation information technologies and artificial intelligence."
Türk Telekom broke new ground in Turkey on 5G smart agriculture applications with TARNET
Türk Telekom signed an agreement with TARNET, the technology subsidiary of Turkish Agricultural Credit Cooperatives, in the field of smart agriculture (Agriculture 4.0) in order to prepare Turkey for Industry 4.0 and to develop the local 5G industrial ecosystem. Türk Telekom, in cooperation with TARNET, successfully completed the field tests of the ATS-Smart Tractor System, a tractor solution with an automatic steering system working with 5G technology. In the project, which aims to increase the efficiency of agricultural activities and reduce the input costs of the producers by using the Smart Tractor System, more precise and accurate agricultural operations can be carried out thanks to the autonomous tractors working through 5G.
Thanks to the Smart Tractor application implemented over 5G, video analytics were performed with the support of artificial intelligence while plowing the fields with the tractor with automatic steering system. When deviations were detected on the driverless tractor route, the farmer was instantly informed via the 5G connected mobile application.
TARNET's General Manager Huzeyfe Yılmaz made the following statement; "Today, the cooperation between Türk Telekom and TARNET is far beyond the synergy created by a technological innovation for our country. The fact that Smart Tractor Systems has reached a conclusion in the 5G integration with the cooperation of Türk Telekom and TARNET means that the input costs of the agricultural sector will be reduced rapidly in the near future. It is also an indicator of our new technologies that we will unveil. TARNET ATS, which is integrated with Türk Telekom's 5G infrastructure, will allow our producers and farmers to get more efficiency with less effort and focus on other input costs.''
Collaboration with i2i on critical core network functions in 5G
Türk Telekom made a collaboration with the domestic company i2i Systems. The company develops infrastructure software for PCF/PCRF product, which is one of the critical systems of the Core Network and supports all technologies including 5G. Within the scope of this collaboration, the PCF/PCRF product will enter into commercial operation in the Türk Telekom network for the first time, just like the Turkuaz solution, the real-time pricing system that was successfully put into use together with i2i. Türk Telekom will commercially localize a 5G core network function for the first time in Turkey, while offering much more flexible and diverse packages to its customers over the infrastructure it will implement with this project.
i2i Systems' CEO Ayhan Kapusuz made a statement regarding the collaboration, "We made the 5G core network connections connecting two continents in the End-to-End Domestic National 5G project with Türk Telekom. We also ensured the use of domestic national 5G base stations in the 5G Radio Access Network. Finally, we started our 5G network compatible PCF/PCRF project with Türk Telekom. We are grateful to Türk Telekom for the support they have given us for all these achievements. From now on, we will continue to work on domestic 5G projects that will add value to our country's economy."
Cloud-based strategic transformation for 5G
Türk Telekom, which is a pioneer in realizing strategic transformations in its network for next-generation technologies, has added a new one to its work on cloud-based virtualization solutions, which is one of the important building blocks in this field. Related to this, it made a collaboration with Odine, a successful domestic company in the fields of virtualized network functions and infrastructure integrations. While Türk Telekom and Odine are testing container architecture platforms together, they are working together for the integration and management of domestic solutions on these platforms.
Alper Tunga Burak, CEO of Odine, made the following statement; "During these times when telecommunications service providers are going through a serious digital transformation process; cloud-based virtualization solutions form the basis of the process. Cloud-based virtualized solutions make telecom operators the most important technology provider for not only operators but also other businesses in their work using technologies such as IoT, 5G, Edge Computing and AI/ML. We are proud to contribute to the digital transformation of our country's telecommunication infrastructure through our strategic cooperation with Türk Telekom."