Join us at GITEX Global 2022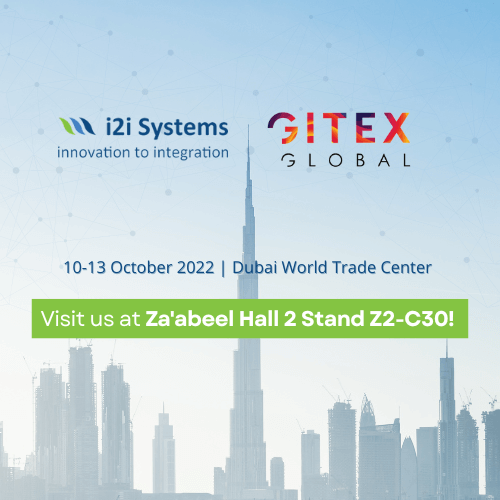 W
e are proud to announce that we'll be participating at this year's GITEX Global taking place in Dubai World Trade Center! GITEX Global is the premier event for exhibitors showcasing the latest in first-hand technology that has inspired generations and innovations that are set to change the world.
As the undisputed tech event for the last 41 years, GITEX GLOBAL features every major technology player, trend and vertical, and it covers sectors including smart cities, cybersecurity, the data economy, mobility, healthcare and telecoms.
We'll be participating alongside 4,000+ leaders, innovators, exhibitors and visitors from over 170+ countries of tech powerhouses and startups.
Join us to witness first-hand revolutionary tech inventions and solutions and come to Za'abeel Hall 2 Stand Z2-C30 to meet our team!
i2i Products and Solutions Showcased
Industry standards by TMForum and 3GPP
Proven real-time performance with high reliability and scalability at Tier-1 operators
True prepaid/postpaid (convergence) in multiple markets and networks such LTE,broadband,IMS,5G.
Highly configurable with dynamic pricing and balance policies
Ready for 5G service monetization
Policy and Charging Control (PCC) suite compliant with 3GPP Release 16
Supports Combined, PCF-only and PCRF-only deployment modes
Support for 2G, 3G, 4G, 5G NSA, 5G SA Mobile and Fixed Broadband Networks
Modular, flexible and extendible policy design
Support for Physical, Virtual and Container deployments
3GPP Release 16

Service Based Architecture

Distributed Redundant, Stateless and Scalable

Cloud Native & Heterogenous Deployment

Support of both 3GPP and N3IWF

Interoperability with EPC
Stay informed on what's happening in GITEX Global 2022 by following our social media accounts!