Join us at TM Forum in Copenhagen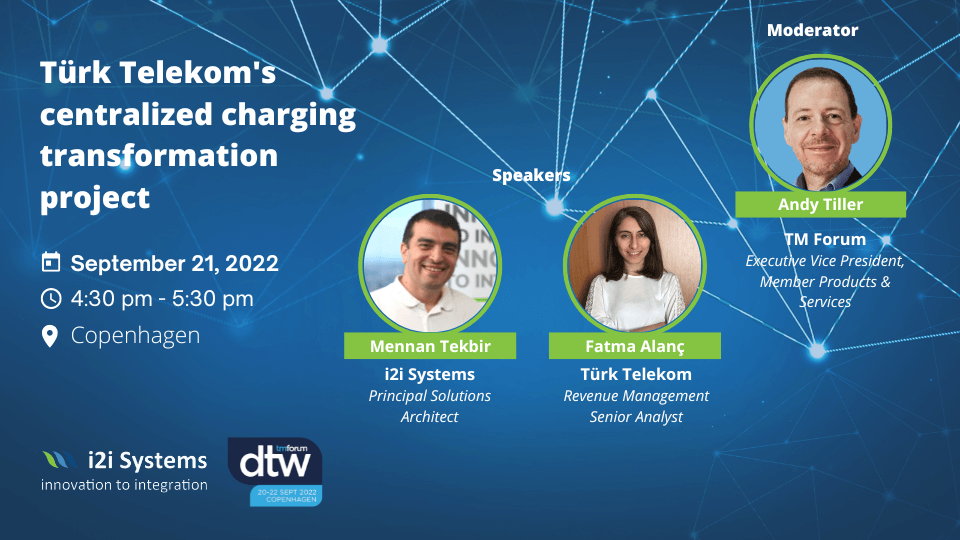 Last year, we were at TM Forum as one of the finalists for the "Best Ecosystem Design Catalyst Team Award" with our joint Catalyst Project "5G Accelerating Smart Aviation Phase IV" delivered by i2i Systems, Oracle Communications and MYCOM OSI.
At this year's event, we'll be taking the stage at TM Forum's Digital Transformation World (DTW) which is a global event for telco leaders who want to solve the problems of digital transformation. Our Principal Solutions Architect Mennan Tekbir and Türk Telekom Revenue Management Senior Analyst Fatma Alanç will be among the speakers at the "ODA: building an architecture for growth" panel moderated by Andy Tiller who is the Executive Vice President, Member Products & Services at TM Forum. It will take place on the 21st of September.
We are very pleased to have the opportunity to share the success story of Turkuaz, one of the largest domestic and national transformation projects in the Telecommunications sector in Türkiye. Join us on September 21st for a discussion on "Türk Telekom's centralized charging transformation project". We hope to see you there!
Stay informed on what's happening in TM Forum 2022 by following our social media accounts!